Specials & Promotions
Online Martial Arts Special
1 FREE Introductory Lesson + 1 FREE Uniform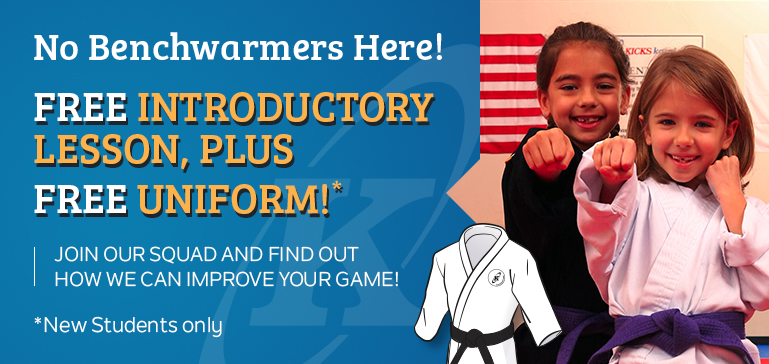 No Benchwarmers Here! Join our squad and find out how we can improve YOUR game!
There is no better way to find out what the martial arts, and our program are all about than to try it for yourself!
That's why we recommend that EVERY student begin with a FREE one-on-one private lesson with one of our black belt instructors.
The reasons are simple:
It will give your child the opportunity to try karate for themselves to see if they enjoy it.
 We want parents to see first hand the type of learning environment we have created for our students.  This also allows you to make sure we're teaching the types of things you want your children to learn.
In this first lesson we will teach your child some of the basic defensive skills, but more importantly, we'll review important rules of karate (like the fact that we don't kick or punch our parents or friends).
At Kicks Karate we created the concept of "edu-tainment."  That means that we combine education with entertainment to make learning fun!  Your child is going to absolutely love it, so register for your FREE trial today!
(Limited to one starter package per student. New students only.)
Online Kickboxing Special
1 FREE Trial Lesson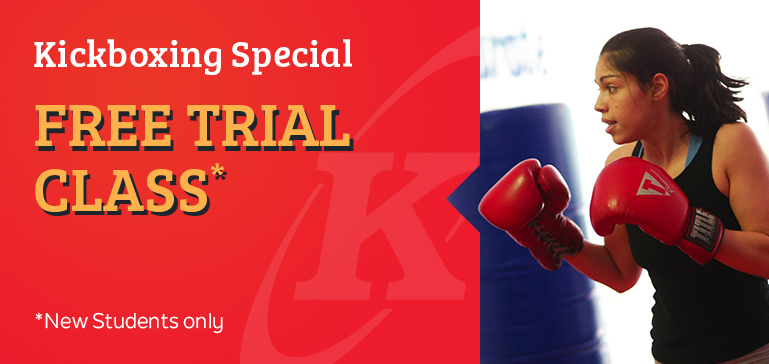 Our trial lesson is a great way for you to find out if our fast paced, calorie burning, adrenaline pumping, action packed Kickboxing class is a good activity for you. Our Kickboxing classes combine high energy music with the kicks, punches, and strikes of Kickboxing for the ultimate conditioning workout.
If it is your first time doing kickboxing, we recommend taking it slow and going at your own pace at first. You'll be up to speed in no time, but starting slow and steady can help you avoid the risk of muscle soreness after that first class.
(Limited to one lesson trial per student. New students only.)